Posted on 16 April 2014Category: Web Development
A web server is the hardware or the software that helps to deliver web content. It can be accessed through the Internet via a web browser or an FTP server. There are many popular and easy-to-use programs that can create and manage a web server for you. Abyss Web Server, ASCOOS Web Server and Apache HTTP Server are three of the many available programs that can help you to create web servers.
Abyss Web Server, which is a lightweight and compact web server available for Windows, Mac OS X and Linux, is our first suggestion. It supports HTTP/1.1, secure SSL/TLS connections, IPv6, reverse proxying, custom error pages, password protection, IP address control, etc. It also features an anti-hacking system as well as a multi-language web management interface. Once installed, you can work with it in your default web browser.
The first thing you have to do is log in using whatever user name and password. They can be changed later when you become more familiar with the app. Its main server console is shown in the second image and has a small table on top. All console icons have names and are placed underneath. It is a matter of little time to learn now to navigate through them in order to get where you want to. A very comprehensive web-based help file is available for anyone who has just begun working in this field.
ASCOOS Web Server is the second program that you can use to create a web server. It is much more complicated and full of features than Abyss Web Server. In fact, you have to spend some time to download and decompress its files. Once that is done, you can use it in the best possible way. Indeed, it is a special version of a web server for all developers and web designers. It is based on Apache, Perl, multiple versions of PHP and MySQL, PostgreSQL, Filezilla, phpMyAdmin and some more useful platforms.
This app allows you to easily create and configure your web server, no matter what kind of a server you need. If you want to read more about it, you can visit the developer's website and get yourself more familiar with it.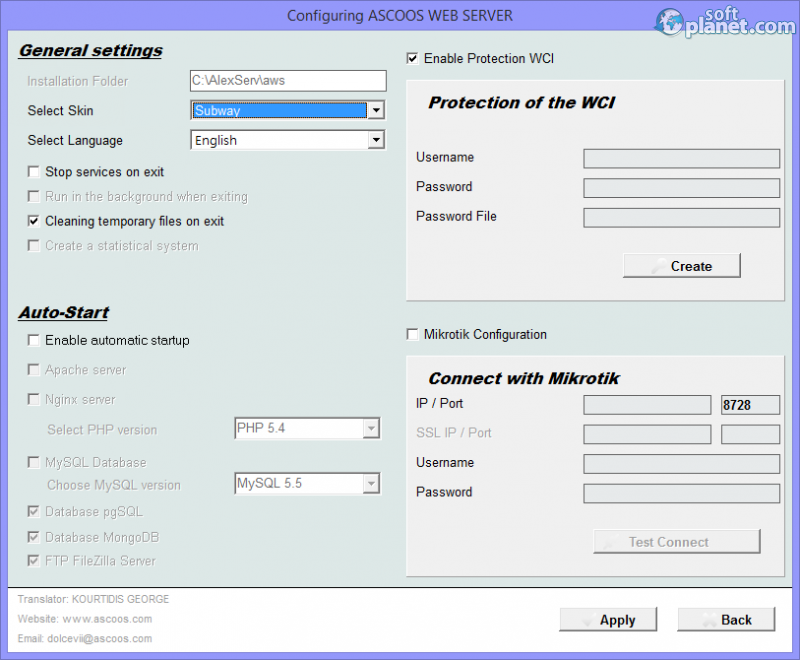 Another possible way to create a web server is if you use Apache HTTP Server. It is an easy-to-use yet powerful application that has a very basic user interface. There is a window, called Apache Service Monitor, which allows you to control the Services panel as well as to create connections to remote computers. Again, you can use any web browser to check the status of your web server. It is a matter of copy/paste in order to add content to your web server. Programming languages such as PHP, Perl and Python are supported.
This web server is fully customizable. Apache HTTP Server is one of the most regarded and utilized web servers by most web developers. It is a very good starting point for any website. Disregarding your knowledge level, you can learn to work with it in no time. All included in this pack services and tools are easy to use and provide excellent flexibility.
In conclusion, our final words are that no matter which web server application you will use, you will be completely satisfied. All of them are well-developed and provide maximum effectiveness with minimum efforts. So the best way to make your decision is if you try them all.